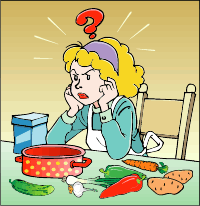 Allergic to meal planning? I can help you remove all the drudgery by bringing "fun" back into your menus!
Personalized, not computerized. Trust me – I did my research before starting this business. I visited other sites claiming to offer personalized meal plans and guess what? Menus planned "personally for you" contained foods I disliked and the meal prep was huge and costly. Truth be told, these "personalized" meal plans are often generated using large generic databases which pay little or no attention to your preferences, budget and lifestyle.
My meal planning approach is quite different as there is no database. You will work personally with me – changing and/or refining aspects of your eating lifestyle you'd like to improve beginning with discussing your food preferences and goals. Meal planners can also serve as a template to help you create your own future menus. Whether you are looking to lose weight, "go" gluten-free, need kid-friendly, vegetarian or simple clean and healthy menus... I can help!
What Do Personalized Meal Planners Include?
Evaluation of my detailed Diet History and Food Preference Questionnaire
Daily menus for 1 week or more
Accompanying fun and healthy recipes
Complete guidelines for following the meal planner
Optional shopping lists
Supermarket and/or natural food store brand recommendations
Communication with me for questions and support
*Food not included
Your eating lifestyle is not a "one size fits all" food plan…and your menus will reflect that!
Choose Personalized Meal Planners alone or in combination with Food Coaching.
Contact me for additional information and fees.
*Fees are quoted individually based on goals as well as quantity and type of meal planners desired.