Could be! My specialty is creating personalized simple, healthy and cost-effective meal plans, recipes and eating strategies for busy lives. Regardless of what you've heard in the past, your eating lifestyle is not a "one size fits all" food plan! Other sites claim to offer personalized meal plans but upon closer inspection, invariably all these services may do is plug a limited number of your food preferences into a database which then produces a set of meal plans created "just for you!" Trust me, when I did my research before starting this business, I actually tried several of these plans. And guess what? Most of the menus planned "personally for me" were made up of foods I disliked or rarely ate. Plus the meal prep was huge and if all the shopping list ingredients were purchased, just about anyone's food budget would be busted!
My approach is quite different.
You will work together with me in a partnership, changing the aspects of your eating lifestyle that you want to improve…step by step. Phone chats, e-mail and video conferencing programs like Skype™ and Google Hang-out™ are fantastic ways to communicate. And if you happen to reside in my local area, I'd love to meet. As a team, we will figure out where your challenges lie, followed by choosing Food Coaching and/or Personal Meal Planning. Whether your eating habits need a complete makeover or maybe just a little tweaking here and there, I can help. Or perhaps you just want to feel more in control of your meal planning in terms of budget, food choices or both. Well then, I am your Maven.
So, ask yourself these very "telling" questions.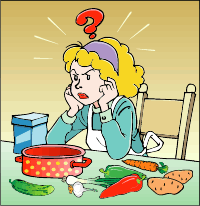 Have you been trying forever to lose that stubborn "pudge?"
Does the thought of another week of boring meal planning and grocery shopping make you gag?
Do you skip breakfast and wonder why you eat everything but the kitchen sink by 3?
Is your fridge allergic to fresh fruits and veggies?
Can't survive the morning without your expensive sugary coffee drink?
Was your family's reaction to last night's dinner "Ugh, hamburgers again???
Have you taken a tuna fish sandwich to work for the last 3 months?
Is the fast food lane always calling your name?
Does your herb and spice repertoire only include salt, pepper, garlic powder and paprika?
Does the thought of whipping up a recipe you drooled over in a magazine feel intimidating?
If you have answered yes to more than one question, you need Linda Shapiro, Meal Planning Maven!
I offer a variety of food coaching and meal planning packages to suit your lifestyle. Whether you simply want tips and tricks for giving your fridge, freezer and pantry a healthy eating overhaul or would like a collection of delicious fast and easy menu ideas and recipes that won't break the bank, let me help. And good news!... I don't require any of those long term commitments you may find elsewhere.